By Essi Karimi
About the Author:
Essy Karimi is an adventurous wordsmith who has a passion for reading, hiking, and writing (although she occasionally indulges in a friendly tango with procrastination)
While staying organised and keeping track of the work done comes naturally in some people, it's a skill many are yet to learn. That has seen many developers develop time management software to help improve one's organisation and productivity. However, the software comes with a price tag and a steep learning curve, especially if you are unfamiliar with the technology, and offers limited customisation capabilities.
Before you give up on staying organised, think of a bullet journal. 
It is a customisable organisation and productivity manual system that you can use to keep your work organised and on track. It presents various features, including calendars, to-do lists, habit trackers, and goal-setting pages, among other tools. These features help you stay organised, remember important deadlines, and prioritise your workload more effectively.
But to enjoy these benefits, you must know how to create engaging and relevant monthly bullet journal headers and titles. To get started, here are some brilliant ideas:
Minimalist Header and Title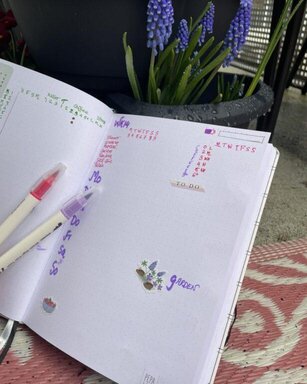 If you enjoy keeping things clean and simple, minimalist headers and titles on your A5 Bullet Journal Dotted Bird are perfect. When you choose this design, the headings and titles can use basic fonts, monochromatic colour schemes, and minimal embellishments. The design helps you achieve the following:
Simplicity as it reduces distractions, keeping you focused on your tasks and goals
Clarity since the headers and titles are easier to read and understand than when you use complex designs, hence easier to quickly find the information you need
Consistency in creating a cohesive and organised look that is visually appealing and easy to navigate
Time-saving since the design is quick and easy to create, saving time when setting up your bullet journal pages
Flexibility as you can adapt and customise the design to suit your needs and preferences. This makes minimalist designs versatile for many bullet journal layouts and styles.
The design is most suitable if you wish to focus on the content of your bullet journal without getting distracted by overly elaborate designs.
Seasonal Themes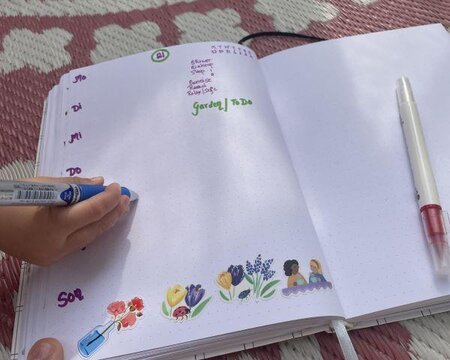 Are you looking for a way to add visual effects to your bullet journal while keeping track of the time of the year and evoking a particular mood? Seasonal themes are a good idea.
These designs, motifs, and colour schemes are associated with different year seasons. For example:
Spring: You can use floral patterns, pastel colours, and bird and butterfly images
Summer: Use bright colours, beach motifs, and sunshine or palm trees images
Fall: Use warm colours, pumpkins, leaves, warm drinks, and other autumnal motifs
Winter: Snowflakes, shades of blue, reindeer, Holiday lights and decorations, Christmas and Hanukkah, warm and cosy blankets, winter activities like skiing and ice skating, and any other holiday-related motifs are a great choice
Seasonal themes are an excellent way to add a festive and exciting touch to your bullet journal. Experiment with various colours, illustrations, and designs to get the most out of this header idea. If done creatively, you can create a fresh and inspiring bullet journal annually.
Incorporate Inspirational Quotes
When you buy a journal, such as the B5 Turquoise Journal Mindful Giraffe, you can incorporate inspirational quotes into the pages to stay motivated and inspired throughout the month. There are various ways to integrate inspirational quotes in the page design, including:
Creating a quote page: In this case, you can choose one page on your bullet journal and dedicate it to inspirational quotes that resonate with you. You can make the quotes specific to the month or any other that inspires you.
Incorporate quotes into your monthly spread: Instead of having a single page with quotes, you can spread them out as a header or design element on each page. An intelligent way to include them is by writing the quotes in a decorative font along the top of the page or using stickers in the overall design.
Use quotes to set intentions: You can include the quotes on your daily or weekly logs to inspire and keep you focused on your monthly goals and intentions.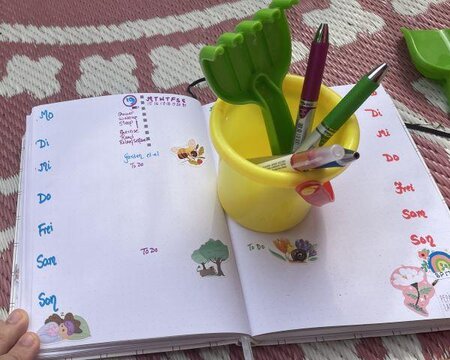 Using Colourful Designs
Your bullet journal doesn't have to be boring since you can use colourful designs to make it more creative and fun. The colourful designs are an efficient way of personalising the journal pages and making them stand out. You can incorporate these designs by:
Using washi tape or stickers: Washi tapes are available in different colours and patterns and can add texture and interest to the pages. On the other hand, stickers are a great option to add a pop of colour and personality to your bullet journal without taking up too much space. If you use this design, choose stickers matching your theme.
Use different pens: With so many pens available, you can choose the ones that work best for you. You can experiment with different pen colours to create colour-coded systems for your to-do lists or trackers.
Drawing or doodles: These are a good way to add colour and personality to your bullet journal. The good thing about this option is that you don't have to be an artist to add drawings and doodles to your bullet journal. You can draw something as simple as circles or stars; the secret is to have fun and experiment with what works for you.
Final Thoughts
Headers and titles play a crucial role in bullet journal organisation. You can use them to clearly indicate the content of each page and guide your reading attention. They also allow you to add artistic and creative elements to your journal, making it visually appealing and engaging.
You can personalise your bullet journal to reflect your unique style and preferences by exploring and experimenting with various header and title ideas. Whether you prefer minimalist designs or more elaborate themes, there is a wealth of inspiration available to help you create a bullet journal that is both functional and aesthetically pleasing.
So, don't hesitate to experiment with different styles and ideas to make your bullet journal truly your own. Happy journaling!