Gardening by DanceofChaos
---
Introduction
The cycle of season is coming to an end for 2020 and fall is upon us. The sultry evenings, with mild romantic breeze kissing your cheek is gone and with it are gone the long, warm summer days. I live in Germany and for me the official harvest season is pretty much over. Right now, gardening is more about bringing the vegetable and flower plants indoor and preparing all the plants for the cold season to come.
That does not mean I will stop gardening or that you must stop gardening. We can still do some indoor gardening depending upon the space, time, and most important factor: Light.
Those who live in India, can scroll down and read about how to garden indoors. Winter is one of the exciting seasons to grow beans, peas, strawberries, beautiful flowers in India.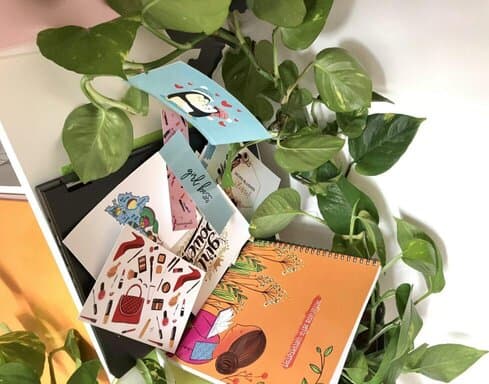 Step 1: Bringing the plants indoor
Please check the temperature outdoors at night. If you find it chilly, likely the plants will find it too. This is time to bring in potted vegetable plants like capsicum, chilly, beans, cucumber indoors. If you see there is frost in the soil, it means the plants must be brought indoors. You can also start bringing the flowers indoors. Strawberries can be kept in the sun for a few more weeks. Plants like lemon tree or herbs should be inside already.
Step 2: Making space indoor
During summer, most of us keep the plants outdoors, in balcony, where they get more sun and natural light and rain. Most of us take advantage of this situation and propagate more plants indoors. My indoor is full of basil, mint from water propagation and a tonne of money plant [Epipremnun auereum] and spider plant [Chlorophytum] propagation. They were occupying all the sunny spots. These green plants will also not have much growth in winter and they will need space too. Moving indoor plants around to make space for outdoor plants in sunny area is a necessary preparation stage.

Step3: Creative usage of space
Our apartments and houses have only so much space, that too space abundant with light. But who does not like freshly picked tomatoes or capsicum and herbs to use in cooking. It is time to get creative with the space. Use the multi-tiered plant hangers to organise plants vertically in the sun.
I have some hanging flower pots, which hang quite well in indoor. I am putting some planting pots and growing herbs like coriander, mint, spring onions there. As the weather gets colder, indoor temperature will drop too. For the current fall season, it seems to be a good alternative to outdoor.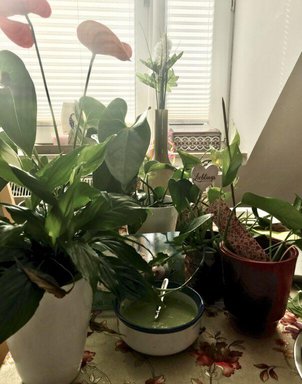 Step 4: Cleaning the trash
My gardening mantra for 2020 has been less is more. Even though, the number of plants I own is still way over the limit I set for myself, I am happy to be able to manage the plants so far. I also have cleaned the plants, pruned the dead branches relatively regularly this year. The continuous work from home benefitted the garden this way. With all the living plants, now being placed indoors, it is even more important to keep cleaning the trash regularly. Even indoors, dead lives will be shed regularly. My lemon tree is full of shredded leaves and I have to keep cleaning them up. I also have redistributed plants all over the apartment, so that they all do not clutter at the same place. The dead branches are pruned regularly, so healthy branches are still growing indoors. For some plants like okra, cucumber, the aphids keep regularly attacking the leaves and branches, even indoors and one must be careful about them. They can spread easily indoors where everything is contained in relatively closed space.
Step 5: Planting new plants
I, for myself, am quite content with the plants I have right now. At the max, I will only replace dead herbs I need regularly. But for many of you, you might want to reuse you soil and grow different plants. Some of you might be getting ready to grow coriander and peas. The rules are same for planting now. But the plants would need less water as the sun is relatively weak now. Also please make sure to keep the windows open, ventilate, so that some pollination is possible if you still want to get some more days of produce.

In conclusion, the transition from outdoor to indoor should be done by mid of October completely. Now is the time to take care of the plants, clean up the dead ones, and prepare for the spring to arrive. I will not be gardening much during fall and winter, so I will mostly have anecdotes and stories to write about my green babies. I wish to use growth light this year and I might write about that experience sometime in winter. Until then, happy gardening.
If you are interested in more gardening related posts, do check out the gardening section of this blog. Feel free to browse around for day to day contents in English, Bengali and German and fictional contents by the blog and guest authors.
All pictures in the blog, unless otherwise mentioned, are taken by the blog. Please do not post the images without permission.