Gardening Basics by Danceofchaos
---
Coriander is such a versatile herb. It is used everywhere. Growing coriander at home sounds easy right? Surprisingly not. Coriander, cilantro or Koriander(german) is a nice smelling herb used a lot in tropical and subtropical cuisine.
Any mexican salsa is unfinished without freshly chopped cilantro. Do you know the secret ingredient behind amazing tasting guacamole : Lemon juice and coriander, lots of it.
Any Indian chaat or snacks is unfinished without coriander. Even pudina or mint chutney needs coriander for the extra fresh taste. Dried coriander seeds are used in wide variety of vegeterian and non vegeterian dishes.
More and more salads are using coriander as one of the garnishes because of it taste.

Such a marvelous herb should have a lot of people interested in buying and growing the herb: and there is a lot of interest in buying the herb. My country of residence has local farmers producing and selling the herb in packages or small plant pots. But growing and sustaining a plant from such pots or even seeds are quite difficult at home. In this post, I try to address a few issues in growing coriander at home. I also describe how I grow corianders at home with varied degree of success. For other basic gardening tips, do follow the browse the gardening section of this blog.
Growing coriander at home from seeds
Coriander is very sensitive to heat ( and cold). It does not tend to grow in the Indian summer or the european fall. The ideal season for germinating the coriander seeds are from March to May in western European countries.
Last year I had got a small coriander plant from the garden centre around April and it grew to the monster in the top. This year I wanted to grow it myself from the seed. I had planted in a medium sized pot, quite a number of seeds. It is recommended to plant individual seeds in small growing pots and let them germinate in peace.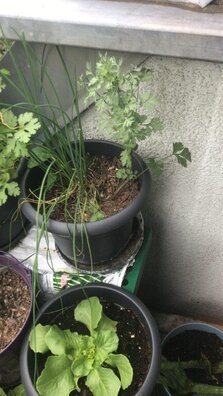 This almost never works for me. So I had used a bigger growing pot and planted multiple seeds there. Without a hothouse, coriander seeds take a lot of time to grow. I had planted my seed around end of February and a small plant could be seen around end of March.
Temperature, Light and water
February is very cold in most part of Europe and there is not enough sun. The only help here is the place the pot where maximum light come in and move the pots from place to place until the optimal, warm spot is found ( from room heating if necessary). If you can afford an indoor hothouse or a indoor UV light, go for it. No plant needs it more than coriander to be honest. Amazon has some reasonable lights. I am yet to buy and try them, so expect a review around winter.
Once the plants started germinating, please be careful that you still keep it in a warm sunny place. The optimal temperature for growing coriander is 10-30°C. Please do not bring your plant outside if it is colder than that. When the temperature rises to above 30°C, keep it in the shade while watering it amply. If you bring a coriander plant outside, while it still is cold, the plant will die. No slow growth, no forgiveness, just straight out wilt and die.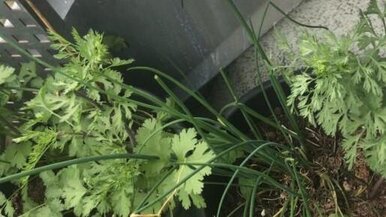 Coriander also needs a lot of water to keep it hydrated. Do not overwater it by drowing it in too much water. The roots of coriander rot quite easily. Regular spray and misting of leaves are recommended.
Harvesting leaves and seeds
With the beginning of summer, the coriander starts to have flower and seeds. Once the leaves at the top start to look thin, it is time for flowers. Soon after flowers, seeds appear and the plant dies. One way to prevent this is to harvest the leaves more often. You do not want the plant to die within two to three months now do you?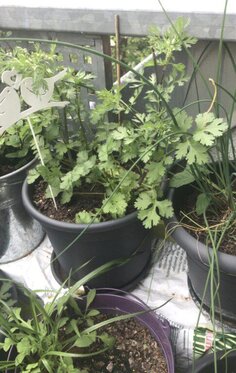 I have noticed that there were a number of coriander seeds which I sprayed in a planting bed in fall with the hope of more coriander: It did not happen. I have a small mobile planting bed and even putting it inside was not very helpful, as the soil temperature was also not optimal. Now, with spring, almost all those seeds are sprouting up. How many of them will grow up to be this beauty is yet to be seen.
This year, I have two or three smaller sized plants compared to the giant plant I got last year. The amount of leaves here are enough for my needs in my cooking. I think from July, I will let the flowers also bloom and the seeds to grow. Right now I am making sure to use the leaves so that they do not flower too early and die off.
Sowing Time of coriander
Coriander can be sown between late spring and early fall. As I said, the seeds grow slowly and they keep growing through summer. So you will have a continuous supply of leaves if you keep on planting it throughout the summer. How you should regulate the plant growth, how big your coriander should be, depends upon your gardening need.
Last year, I only had one big plant, in the plant bed and it killed off other smaller plants. When it died early september, it was just too late and too cold for the smaller plants to sustain and the dead roots were big obstacle. My gardening is done in my balcony. Only one plant in the plant bed is a luxury I do not have: so this year I have planted it on two pots and many small plants are growing beside the chives and strawberry in the plant bed too. If they all grow properly, more for me yay!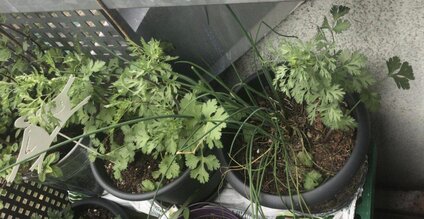 Unfortunately, Germany's temperature are not warm enough till mid of April to facilitate good growth of coriander. In 2018, I had brought the coriander out in April and it died. This year I have been lucky. Also it is quite cold from end of August. So you have to be very vigilant about the plant and transfer them between indoor and outdoor depending on the plant's needs. That is why planting it in smaller pots ( not growing pots) is a good idea.
Since I am not a gardener by profession and this is a relative new hobby for me, here are a few good articles on growing coriander that might come in handy for you. So soak those coriander seeds you have in your kitchen and get planting.
This blog is a labour of love. It started with me wanting to write about my personal experiences and my thoughts and musings. It developed as a platform where I journal my journey as budding gardener and discuss it with like minded people.
During the quarantine, home office time, it has emerged as a platform for like minded creators to collaborate and publish their creative venture too, like reciting poems they wrote, collaborating on stories or just writing about different things. Do take a look at the guest contributions in the blog like Kolome Debarati or PenByMadhura. There are regular collaborations with creative minds.
I hope our hard work has earned it's place in your heart and you have enjoyed reading this small piece. If you wish to submit your writing or your creative work in this blog, feel free to reach out to us via the contact form.