This post of mine is focussed on managing our day to day lives while living alone and working alone. A large amount of stress in our personal lives comes from trying to manage our life on our own, without any support system.
A lot of young people today move to another city or another countries for studying and work purpose. In one stroke, they remove themselves from their roots, from their emotional support systems like family or long term friends.

On the other hand a lot of new challenges pile up like living and adjusting in a new environment, often new and different culture and people and more often than not new languages. This is why managing everything alone efficiently become more important as it becomes more difficult by the day.
I moved to another country in a fairly young age, in the beginning of my twenties for studying. After that I was working and living there alone for quite a while before things changed in life.
The beginning of living alone is always difficult.

For anyone, who is as attached to their parents and sibling as I am, the initial days of living alone meant I was always homesick. Luckily, when you are a student, you meet fellow students, you go out to the university to study, there is course work and exams to take your mind off that homesickness. After some time, the rhythm comes into life and you start getting used to it.

Working Alone

When working in a different city, there is not much time left for socializing. Friends from university gets scattered in different parts of the world. Colleagues can become friends too, but it takes much much longer than it took during those struggling student days. Workplace brings it with its own pressure and expectations.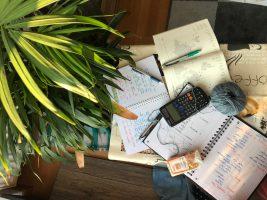 Daily Life

Life tends to form into clusters of boring routines. Monday to Friday work and commuting takes up most of the time of life. That is why doing something for fun or hobby at home is in my opinion so relaxing. Then there is preparing for the next day and so on. Weekends are often too short and seem to fly by between the chores, trying to catch up some much needed rest and socializing .
Responsibilities
Living alone means taking care of everything on your own. There are no delegation possible. If something needs to be fixed, you have to fix it on your own or arrange it to be fixed. You take care of your expenses, your meals. If you are sick, you have to take care of yourself alone. You have to take care of your apartment/house, clean it and keep it livable. if there are houseplants and pets, you have to be responsible for that.
In other words, you have to be responsible for home and work and you cannot switch it off.

It is all not bad though

Living Alone teaches you to be independent and self sufficient early on. Since you are taking care of everything about you, you learn to prioritize and discipline yourself. This also reflects positively in your work place where you can take charge and involve yourself better with your work. You learn to value your time and the time of other people. You learn to appreciate the small things in life.
Despite all the pressure and stress, you learn how to take time off and regenerate yourself. In my next post, I will discuss some of the hobbies I developed over the years which helped me a lot to combat the day to day struggle.
If you have any suggestions or recommendations on any topic, if you wish me to cover some topic, feel free to contact me or drop a comment here.
For regular updates on my blog post, please subscribe to my blog through the subscribe link. You can follow my board on pinterest and on instagram too