Tanni for Danceof Chaos
Hello dear reader Family,
It has been a while since I shared our journey as new parents. You can read the previous two posts on our journey below if you want to.
Half Yearly Journey
As the days piled into weeks, weeks piled into months, we find ourselves half year-old parents. As baby K grows, her demands on our time and attention grows. Her own schedules, from different doctor appointments, playdates also grow.
Then there are chores, never ending loop of washing clothes, washing dishes, cleaning floors. Baby K has started on solids à our laundry has tripled overnight.
We have caved in and gotten help, a wonderful lady who comes every week to help us out. That has been a much-needed addition to our routine. Without that, every week, I was routinely falling sick and was forced to stay in bed. That was not a nice experience to be honest.
Our calendars are also full with work ( for now Papa only), social meetups, different office appointments. I have started venturing out alone , carving out bits and pieces of me time in form of EMS training, coffee meets with friends. My husband, who was a passionate triathlete tries to take advantage of the coming nice weather and do some training.
We always had a full calendar prior baby K. I had my work, dance, journaling, volunteer activities, miscellaneous hobbies , social life. He had his work and triathlon and social life. We would run some events past each other and weekend events but we never needed to run our day to day activities past each other.
Now we need to run past every small details by one another because of baby K. If any of us wanted to go for a run before, we just did. Now we must ask the other person if they will take care of baby K. Before, if we wanted to do our own thing in one weekend afternoon, it was no problem let's catch up at dinner time. Not anymore. We have to meticulously plan everything and put it in a calendar.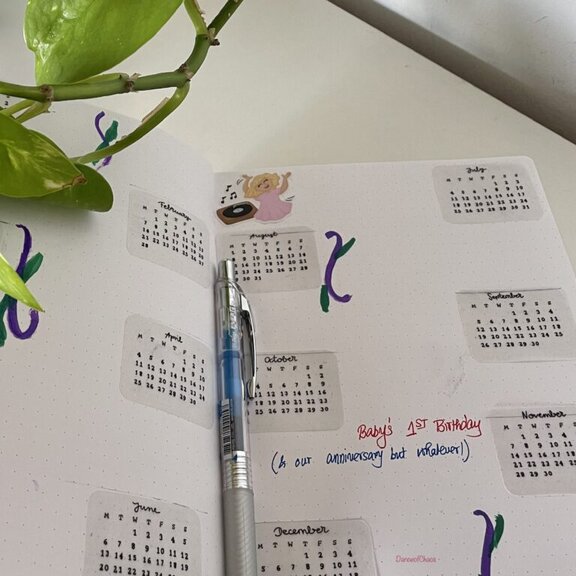 Somehow just a digital common calendar and my personal planner was not cutting it. We have also become the family where the monthly overview and task list now gets stuck to the refrigerator, with my personal twist. The many magnet boards available online were not really to my liking. And I have so many different layouts I can try and play around with. So I make a copy of my monthly overview and hang it. Also, I am trying the Alastair Method of future Log and printing it out. I had made a beautiful preview / future log for 2022 in my BUJO and it feels good to put it to multiple use.
Only the most important events of the year goes there and rest are tackled in the monthly. I am planning to add the meal plan / miscellaneous task list to this overview too. So far the visual representation of the monthly events, appointments are working better than just the digital calendar one. It is also important that we spend time with baby K, one on one and together.
This way we can check all the days and scoop out our appointments, personal times like fitness, big jobs like meal preparations and even some of us two time. The last one almost always end us in front of Netflix watching the cake shows and then falling asleep there.